About Us:
Gavaldon Law PC in Fort Collins, CO has been serving the legal needs of clients in Colorado, and neighboring states, both state and federal courts for many years. We know when you come to us you are entrusting us with your life and your freedom. That's why we promise to provide the highest level of representation possible.
READ ABOUT OUR APPROACH
Services we specialise in:
• Homicide • Sexual Assault • Assaults of All Kinds • Drug Related Crimes • White Collar Crimes • Theft/Fraud • Parole Violations • DUI & DWAI • Traffic Violations • Felonies • Misdemeanors
READ MORE
Our areas of practice include:
Defend
Advise
Advocate
In defending and protecting our clients, we ensure that their rights are not being violated. We provide our clients with accurate, thorough information and advice that will help them make informed decisions
LEARN MORE
Gavaldon Law rated in Super Lawyers Get in the Know You never know when you might need this ;) Designs Able to Land stop!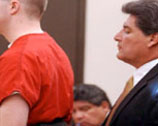 Gavaldon has tried thousands of cases in court with live juries and is consistently recommended by legal officials to defend their own family and friends
The Charges:
Accused of attempted murder and assault
The Verdict:
Found Innocent...
Client Testimonials:
Gavaldon & Mestas LLC - Is the highest rated criminal defense firm in Fort Collins. With 67+ years of criminal defense involving the highest profile defense cases in Colorado, Andy Gavaldon and Gavaldon Law Firm are recommended by professionals and defense firms. Judges, police officers, and criminal defense attorneys, send their family members and friends to Gavaldon Law trusting this firm above all others to offer the best defense available.